The staff of OTM again choose a few of our favorite things.  Please leave us comments below and enjoy.
Sarah Abdurrahman: My staff pick is fellow OTM producer Alex Goldman's meeting time artwork. During story meetings, we often doodle on our notepads while discussing topics for the week's show.  Alex always comes up with the most impressive doodles, such as this portrait of me that he made recently: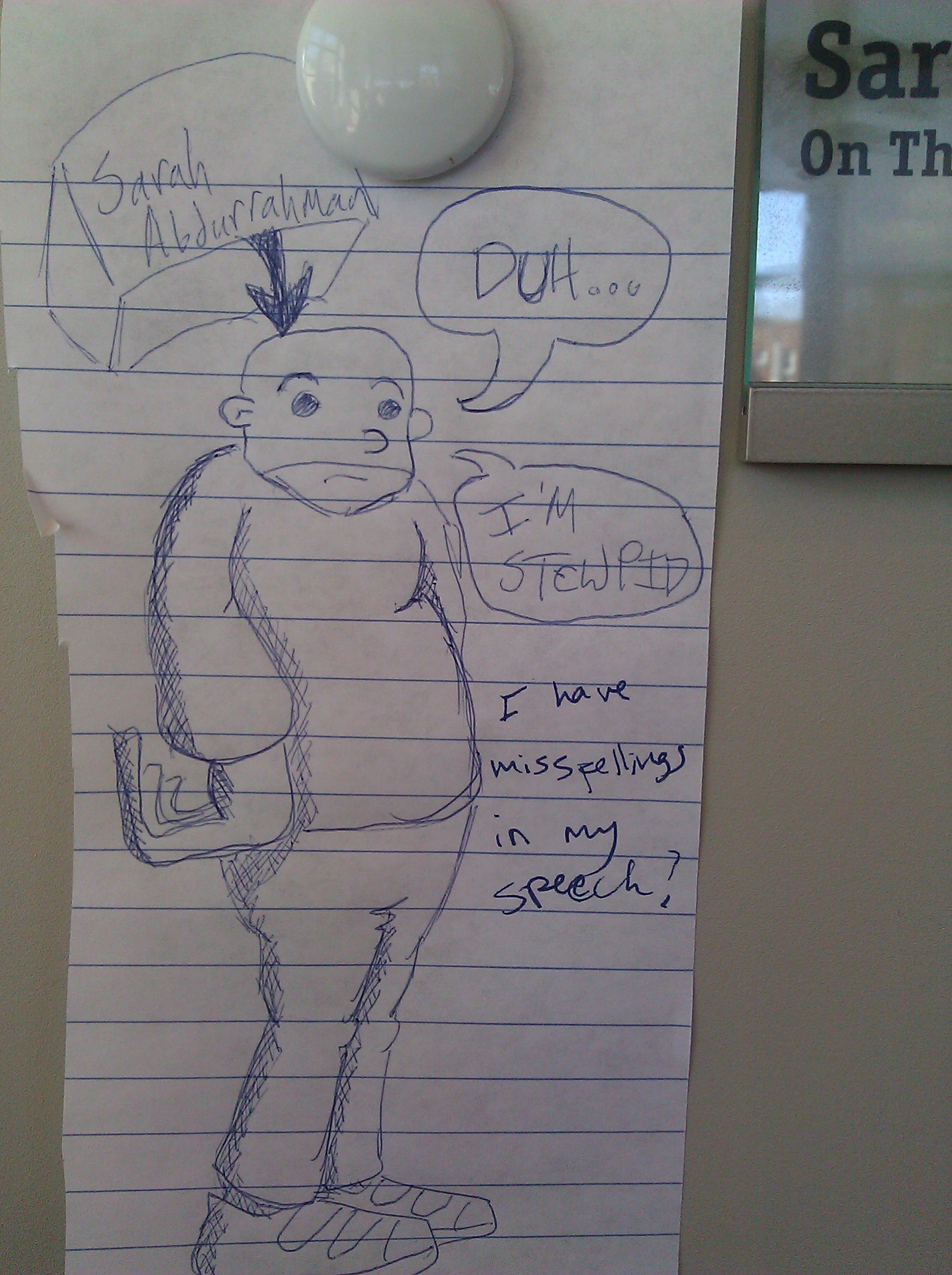 Bob Garfield: Are there rules here? Am I allowed to staff-pick whatever I want? Well, whatever. My staff pick is an Onion headline. Deal with it.
http://www.theonion.com/articles/female-friends-spend-raucous-night-validating-the,27446/
Alex Goldman: A few weeks ago, my staff pick was Lalo Shifrin's unbelievably funky theme to the Dirty Harry movie Magnum Force. Now I'm not a movie theme nerd (so far as I know), but last night I was reading online about my favorite Dashiell Hammett book Red Harvest and its many screen adaptations, and I stumbled across Satô Masaru's title theme for Akira Kurosawa's Harvest-inspired samurai masterpiece Yojimbo. It's a pretty sick tune, and much like the theme from Magnum Force, a Yojimbo inspired breakbeat is long overdue.
PJ Vogt:  I saw this movie Oslo, August 31st last week, and I really loved it. Buuut it's kind of hard to recommend. It's about a recovering drug addict on his first day out of treatment, and it's Norwegian, with subtitles. Probably not anybody's idea of a madcap romp. But it was really, really good, and while it's sad, it's not one of those movies that pummels you with sadness. I don't know. Just go see it and you'll thank me. If you're in New York, it opens at IFC in May. Or if you need more convincing, you can stream the director's first movie on Netflix right now – it's about two young writers in Oslo and it's also jaw-droppingly great.
Jamie York: On trying:
More in:
Jamie York is a producer for On the Media.