This week on the show, we're talking with Carl Malamud, open government advocate and director of public.resource.org. Malamud's interested in what are called "incorporation by reference." The phrase describes laws that have references to safety standards embedded in them. For instance, a law that says your car has to have turning signals will also include standards about how bright or how large the turn signals have to be. Malamud's gripe is that frequently, those standards are written by private companies, and those companies hold the copyright to the standards. That means that even though the standards are part of a law everyone has to follow, citizens have to pay -- sometimes several hundreds of dollars -- for the privilege of looking at them.
So Malamud's come up with a simple, albeit expensive solution. He spent over $7,000 to purchase 73 public safety standards that have been incorporated by reference into law. Then he printed them out, and recently, he's been shipping the documents (which weigh thirty pounds, all-in) to various governmental agencies and standards development organizations. He plans to publish the documents online for the public soon, but he's giving the various agencies and organizations until May 1st to comment on his plan. If it doesn't become a copyright lawsuit, Malamud plans to start publishing these standards to the web regularly. You can listen to the segment from the show on the embedded player below.
When I called Malamud to talk about all this, he told me "Give me your address and I'll send you some stuff." Printing and shipping thirty pounds of documents is expensive, so what I got was the lite version (you can see more pictures of the "big box of standards" on Cory Doctorow's Flickr page). Still, it's pretty cool. Below are some pics of what Carl sent me.
This is the box that it was sent in, featuring a John Adams quote. Please ignore all of my office detritus in the background.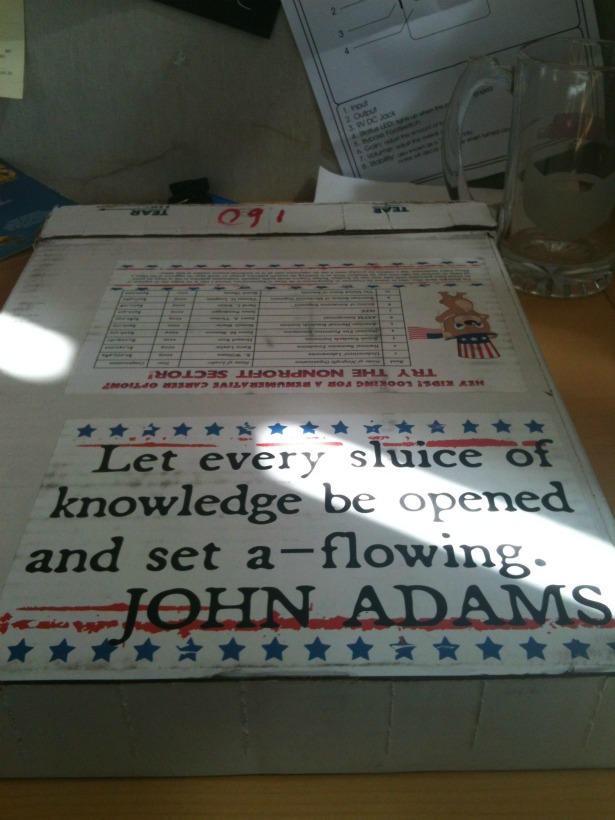 A stamp on the box featuring a quote from the 5th circuit opinion in Veeck v. SBCCI. Malamud cites this case as precedent for the legality of posting copyrighted standards.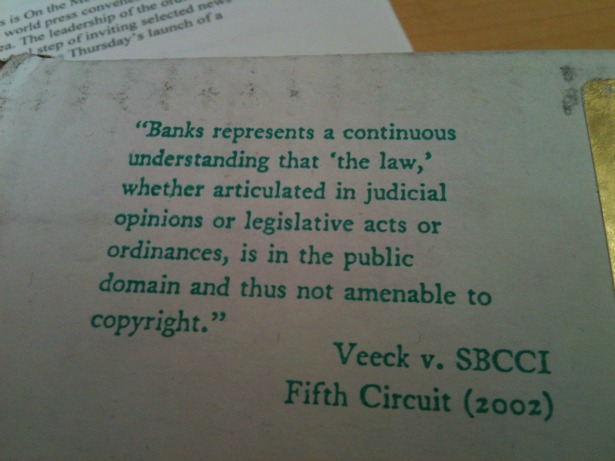 The letter that came inside the box explaining the project.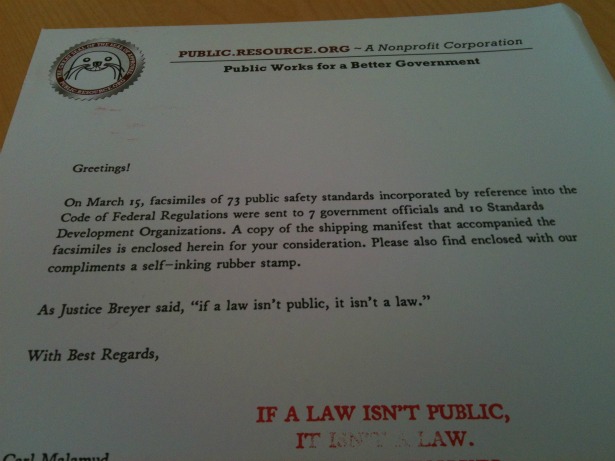 Malamud's request for comment, printed on thick glossy color paper. Pretty classy.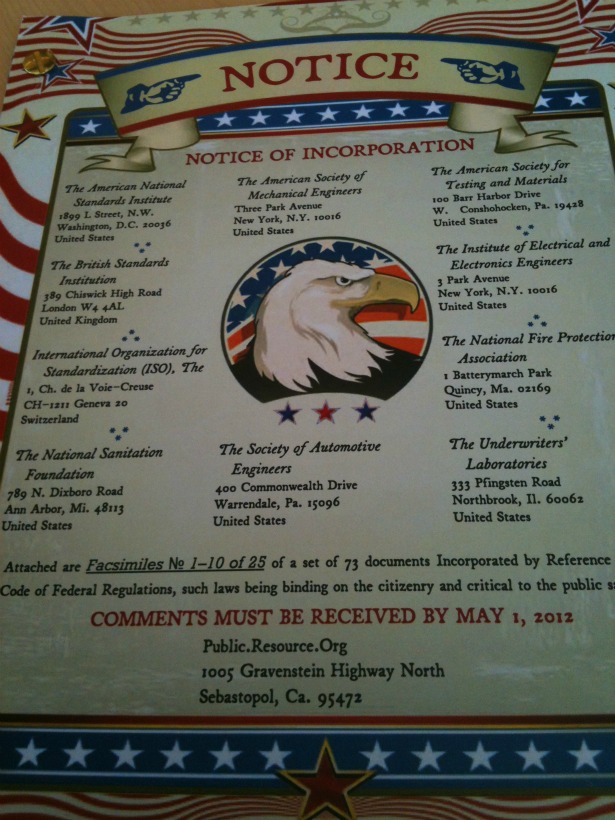 The "shipping manifest," which details all the documents included in the big box of standards.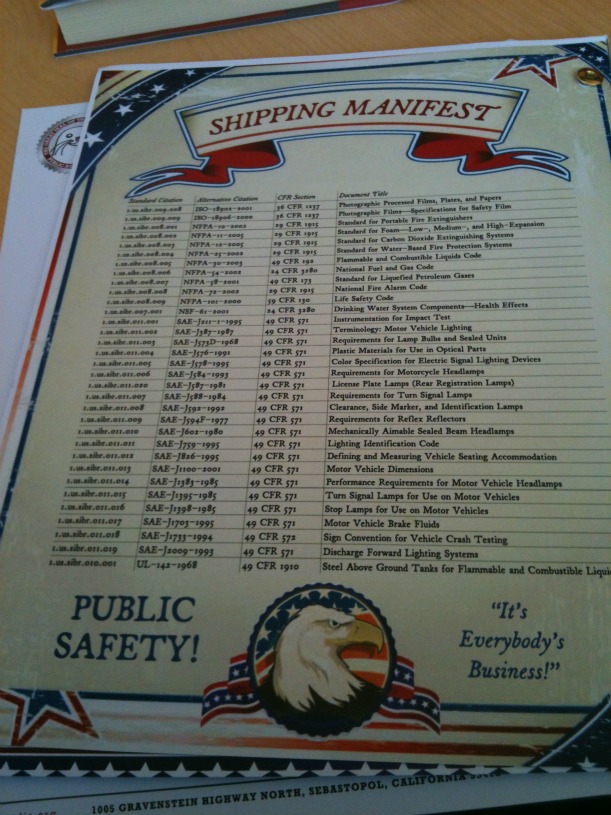 On the backs of the documents he sent are pictures from the Library of Congress that include facts about standards incorporated into law.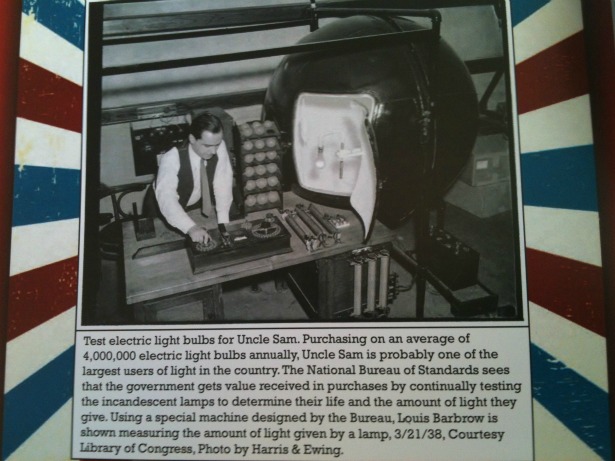 A receipt for the purchase of the standards contained in the big box of standards.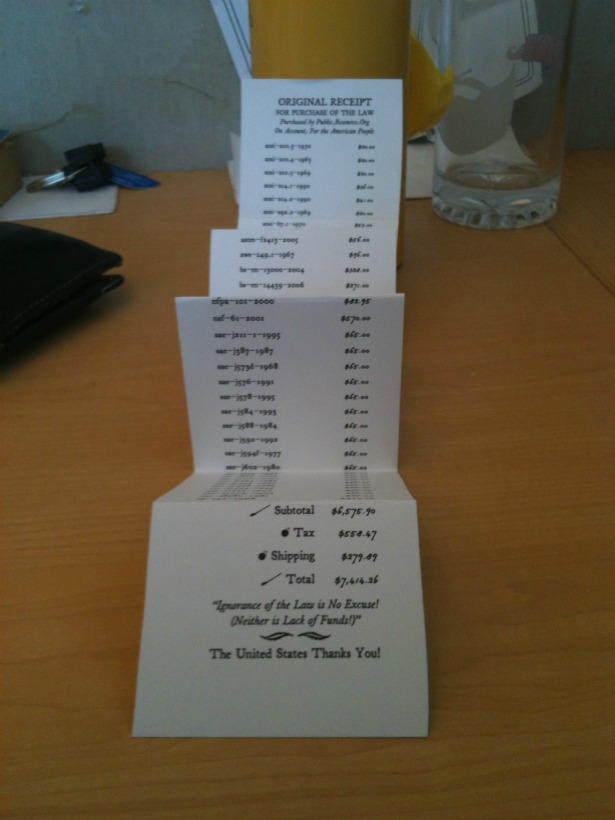 My favorite thing he sent me was a stamp of a quote by Supreme Court Justice Stephen Breyer -- "If a law isn't public, it isn't a law." I think that from now on, instead of sending emails to my co-workers, I'm going to print everything out and hand it to them, just so I can stamp every page.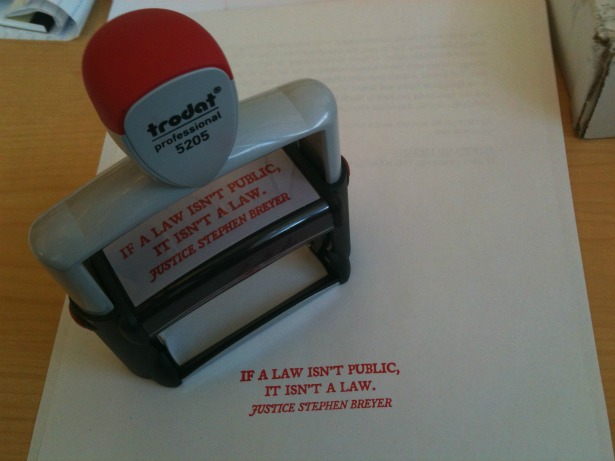 On our show this week, Malamud outlines his case for posting this information online, so please tune in to check it out or just follow this link directly to the segment.
More in:
Alex Goldman is a producer for On the Media. One time he got run over by a car.