The staff of OTM again pick a few of our favorite things.  Please leave us comments below and enjoy.
Sarah Abdurrahman: I highly recommend In the Country of Men, a novel by Hisham Matar.
Brooke Gladstone: Here is what I've been loving on my break: the Knicks. Those who actually know me will now be in need of oxygen or possibly resuscitation paddles.  I've been watching the games on the MSG channel (Madison Square Garden) channel with announcers Mike Breen and "Clyde" Frazier, who turns out to be WALT Frazier, and whose charming descriptions are full of rhymes, as in: dancing and prancing, dishing and swishing, posting and toasting, shaking and baking, spinning and winning, stumbling and bumbling and swooping and hooping, to name a few. In fact., I've stumbled and bumbled upon the Walt Frazier dictionary, which I link to for your delectation. He also is known for his styling and profiling.
Alex Goldman: I am not a sports guy by any stretch of the imagination, but my staff pick for this week is a pretty riveting USA Today story about Gilbert Arenas, a former all-star for the Washington Wizards, who is now trying to live down infamy – and insomuch as one can as a professional basketball player, live in anonymity - after bringing guns into the locker room in 2009.
Chris Neary:  Maxine Sullivan. I'd only ever heard Blue Skies until I got Spotify a few weeks ago – and I'd only heard that because it was in a commercial. Listening to her greatest hits album has been amazing. Seems like other female singers from that era were more idiosyncratic, but her voice is distinctive because it's perfectly clean and sharp. A lot of her best stuff isn't on YouTube – but it's worth finding.
Extra pick: The monstrosity in the outfield at the new Miami Marlines stadium that is 'activated' whenever the Marlins hit a homerun. Brightly colored and nightmarish.
PJ Vogt: This week, my staff pick is the pistol shrimp. It's a shrimp with an oversize claw that snaps shut to create a bubble.
The bubble bursts and makes an extremely loud sound -- 218 decibels loud. To put that in perspective, when a jet takes off, 25 meters away, that only emits 150 decibels. Garbage trucks and power lawn mowers top out at 100 db. The sound and pressure from the bubble bursting stun other shrimp, and then the pistol shrimp eats them. 
My point is that that's a pretty bad-ass shrimp. Also I learned about it on this great newsletter which delivers facts to your brain every morning, which is appropriately called 'now I know'. You can subscribe here.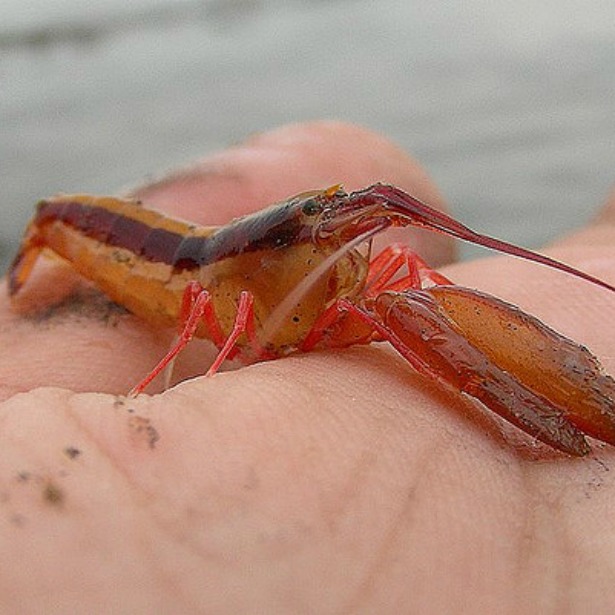 Jamie York:  After reading a recent New Yorker article on the machinery behind writing 'smash' pop songs for female singers I happened to hear these two songs on shuffle this weekend.  Both of them restored my (perhaps naïve) faith that some songs aren't dreamed up in the lab (or the Brill Building, or Tin Pan Alley). 
Regardless, unless there's too much joy in your life, check them out.
More in:
Jamie York is a producer for On the Media.