OTM Staff Picks Volume 21
A few of our favorite things.
Wednesday, August 22, 2012 - 10:44 AM
Here's a hyper-linked version of those note card recommendations at little independent bookstores. You know the ones.
Bob Garfield
Prime Suspect. Holy moly! I need to finish reading a book by Tuesday afternoon and I need to finish writing one by September 14, so naturally I started watching hours and hours of a 20-year-old British police procedural starring Helen Mirren. Now, I don't watch police procedurals. I've never seen Law & Order or CSI in any of their permutations. But this a remarkable series. Most remarkably it is slow. Minus the compulsion to solve a crime in 44 minutes, it manages to look like actual police work. And the police look like human beings filled with mundane human failings and  tasked with tedious labors. Yet still so gripping. Three 2-hour (!) episodes in, I am entirely gripped.
Jamie York
My staff pick this week is a new collection of Robert Hass essays called What Light Can Do. Hass is primarily a poet, he was poet laureate of the U.S. from 1995-1997 and he translates a great deal of Czeslaw Milosz's work, but his essays are about cultural topics great and varied; a whole world of art, music, literature and history. His gift is not just that he writes so beautifully but the way his erudition (a word usually used by the erudite, he's really just wicked smart) is so accessible. You can stumble into any of these essays and feel utterly taken care of, smarter and more curious for having Hass as your guide.
Alex Goldman
Look, I'm just going to come out and say it. The Breeders are twice the band The Pixies will ever be. And they have continued to be great, right through the release of their most recent album, Mountain Battles. Seriously, the Deals have the best voices in rock & roll, and lyrics like "you got an empty box of whippets and a boyfriend with a beeper" perfectly sum up every sketchy kid I ever met in high school.
To be fair, however, Frank Black's first two solo albums (his eponymously titled debut and Teenager of the Year) are also better than anything in the Pixies recorded output. See compelling evidence below:
Brooke Gladstone
Just finished the utterly delightful novel, "The Evolution of Bruno Littlemore." I mentioned it to my daughter the literary scout and she said, "Oh, the monkey sex book!" which is of course a gross simplification. Though there is chimp-human sex. But it's hilarious and poignant and very well plotted. The title explains a lot.
Sarah Abdurrahman
I recommend Spike Lee's "Do the Right Thing," which I recently re-watched and thoroughly enjoyed. The movie is 23 years old, but it could just as easily have been made today because of its timeless themes. One of those themes deals with gentrification, which is hilariously depicted in this scene:
PJ Vogt
My staff pick this week is currently en route from an Amazon warehouse, and it is a 12 ounce bag of dehydrated cereal marshmallows. Somewhere, the 13 year old version of me is pretty psyched about the modern world we live in.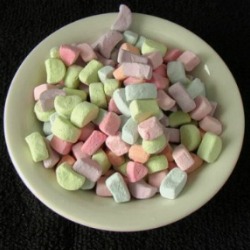 Chris Neary

During his playing career Los Angeles Laker Metta World Peace has been, by turns, violent, unbalanced, and kindhearted. Metta World Peace is not his given name, it's Ron Artest. Changing his name from Ron Artest to Metta World Peace, however, means that the back of his jersey reads "World Peace." To say that World Peace had a violent upbringing would be an understatement. For example, during a basketball tournament in Queens Niagara Falls in 1991, a friend of his was stabbed to death with a broken off leg from the scorer's table. This (very trippy) video of him on a kids show is worlds away from that.  Ron Artest contains multitudes. H/T: Trey Kirby at the Basketball Jones blog.
More in:
Chris Neary is a producer for On the Media.