It's time for a few of our favorite things.  Please leave us comments below and enjoy.
Sarah Abdurrahman: This interactive series of photos from The Atlantic, showing images of different places in Japan after the earthquake and tsunami last year and how they look today.  When you click on the images, they fade back and forth between scenes of destruction and scenes after clean up, which actually give a better understanding of the devastation than seeing the destruction scenes alone.  It's pretty amazing, definitely worth checking out.
Bob Garfield: My staff pick this week is an adorable video in the process of going viral, with more than 500,000 views among YouTube, Yahoo and various other nooks and crannies of the internet. You'll understand my special interest in it if you read this, as well.
Brooke Gladstone: My staff pick this week is the set of 1963 cavemen made by the Marx toy company that I recently bought on Ebay. I believe it is extremely important  to remember your roots.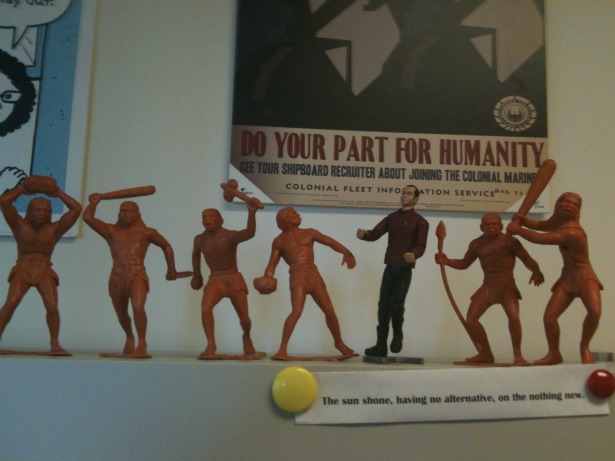 Alex Goldman: Since I started watching the BBC series Sherlock, I decided that should actually read some Sherlock Holmes. I was shocked at just how funny and accessible it was, and especially how the BBC series seems to have nailed the relationship dynamics between Holmes and Watson. I'm really enjoying both the show and the books. While the issue of whether or not the Arthur Conan Doyle's Holmes stories are in the public domain seems to be a matter of much contention, many of them are available for free on the Gutenberg Project website.
PJ Vogt: I'm only halfway through reading this piece, but staff pick whip cracker Jamie York is literally punching me in the arm, bellowing at me that it's time to submit a pick. So I'll say that at present I'm really enjoying this piece by Bullseye host Jesse Thorn on how to create things. I would be enjoying it more without all the hitting.
Thorn started his public radio show out of his home as a 26-year-old19-year-old(!), and it's neat to hear advice from someone who sort of wrenched this thing he wanted to make into existence without much help or blueprint. Anyway, it's here: 
Jamie York:  The flip side of fandom is managing expectations.  It's hard.  Lynne Ramsay is a director who's only made two previous feature films, Ratcatcher and Morvern Callar both of which are gorgeously weird, singularly beautiful and pointedly unsentimental.  I loved them both.  Her latest, We Need To Talk About Kevin takes a more straightforward 'bad seed' plot and bends it to Ramsay's will.  It's never less then fascinating and … wildly uneven.  I wholeheartedly recommend the first 20 minutes. 
One of the things that Ramsay does best though is music and one of the reoccurring songs is another pick: Washington Phillips. Phillips mastered the expectations game by only recording 18 songs between 1927 and 1929.  16 of them survive and they're otherworldly.  If I was granted some wishes this would be a pop hit. 
More in:
Jamie York is a producer for On the Media.