The staff of On the Media choose a few of our favorite things. Please, please leave us comments below and enjoy.
Sarah Abdurrahman:  I had Korean-style fried chicken for the first time this weekend and IT IS DELICIOUS. I am still thinking about the thin, but perfectly crispy coating with the sweet and spicy glaze lightly brushed on. Seriously, it is ridiculous how good this stuff is. I can't believe I waited this long to experience it.
Bob Garfield: My pick this week, and every week, is a multi-platform publication called The New York Times. Sometimes this newspaper does spectacularly stupid things. Mostly it is the world's preeiminent example of the miracle that is the daily newspaper. I read it at least twice every day -- first online, where the stories are fed based on significance and popularity, and then in the paper version, which is my 365-days-a-year Christmas morning. I page through it opening up one gift after another. Some of the presents were on my list; some are entirely unexpected and proportionally more thrill and/or delightful. And then for the rest of the day more e-news comes right to me.
In any case, not a day goes by in which I do not marvel at the depth and scope of NYT reporting. It is an international treasure
Brooke Gladstone:  This week I'm going with Astilbes. I have a diminutive, demanding Brooklyn garden - the horticultural equivalent of a Jack Russell. It can inspire pure delight, also utter devastation if your attention strays even for a moment. Astilbes are beautiful, foamy, shade-friendly perennials that reproduce on their own, are easy to transplant, last a long time and create a "secret garden" magic in murky corners.  I know, I know, lately my picks sound like send-ups of the J. Peterman catalogue. Next one, I promise, will be more cultural. But this week I can't stop looking at my Astilbes. Here's what they look like (though this pic is not from my garden) but you'll get the idea.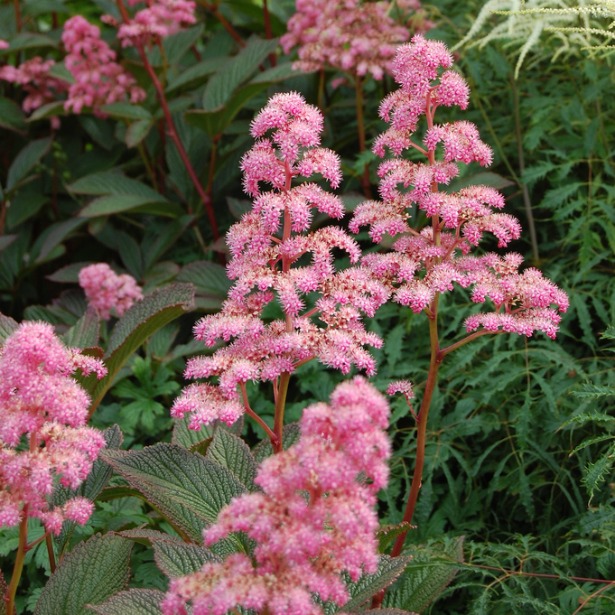 Alex Goldman: I'm going under the knife tomorrow (you may have heard something about my health issues somewhere), so this week's staff pick is all about going to a happy place. First up, is "Big Schnitzel," by my favorite internet dance music madman, Breakmaster Cylinder. I have no idea who this guy is or how I ran across his music, but he's a genius. This song is a surreal collage of the Notorious B.I.G.'s  lyrics about food.
And while I'm out, I'm going to figure out a way to watch Little Murders. I say "figure out" because fellow producer PJ vogt borrowed it about a year ago and refuses to give it back. But it's the greatest movie/play ever made. If you don't believe me just watch this clip. Or better yet, ask Brooke. She loves it too.
Chris Neary: The English Surgeon is a simple, plain spoken documentary about an English neurosurgeon who travels regularly to Ukraine to perform brain surgeries. He's more skilled than most surgeons in Ukraine and operates on patients that Ukrainian doctors, sometimes for political reasons, wouldn't operate on. Life and death are discussed in almost every scene – but the movie isn't maudlin and presents tragedy like an adult. There's also more humor than you might think. (Note: This move is in no way related to The English Patient)
Katya Rogers:  Buzz-a-Rama. Been on Church street in the Kensington neighborhood of Brooklyn since 1965 and the owner, Buzz Perry has been there every single day it's been open. I went there for a 5 year old's birthday party - the kids had a good time but the parents had an AWESOME time. After racing cars round a track went for cupcakes in the arcade games section. All the 40 year old dads went in to spasms of ecstasy over the classic games like Donkey Kong, Pac Man and Kung Fu Master. So I'm sitting there waiting for the whole thing to be over (never much liked the video game thing; I left that to my little brother when we were growing up), but to pass the time I thought I'd have a quick go on NARC: Just Say No (with a line of coke under the NO). I got the hang of it after 3 minutes and found myself yelling things like "pick up the bags of cocaine!" and "shoot that junkie freak!" at the 8 year old who was Player 2. I got so into it that I didn't notice that the whole party had closed down around me and I was just there frantically busting homeless people and rocket bombing rabid dogs. I think I got a glimpse of what it's like to be Alex and PJ and all I have to say is: Yikes.
PJ Vogt: This is a tough week for me, staff-pick wise. The best media I consumed was the Sunday night Golden Era of TV programming block (Game of Thrones-Mad Men-Girls). Those shows are so popular and widely-discussed that it doesn't feel like much of a public service to let people know about them. Instead, how about this? Delightful, funny writer Etgar Keret reading a story from his his new book which is delightful and funny.
Jamie York: These two are picks not because they're new but because they've stood up for months now.  I keep listening to them, and finding new things in them.  They have quite a few similarities and only just now, finding YouTube clips, did I realize they've actually recorded together.
Sharon Van Etten is somehow intimate and magisterial, confessional and oblique.  It's music that makes me wish I had a car so I could sing along with more reckless abandon then an apartment in New York City will allow.
And Wye Oak put out an EP I loved a few years ago and though this took some time to grow on me, they continue to have a sweet punch that I find really satisfying. 
More in:
Jamie York is a producer for On the Media.