On Sunday, Sarah, Marianne and I followed a long march of tens of thousands of protestors through the streets of Mexico City to the Angel of Independence monument, gold and blazing in a stunningly intense sun. The protest itself was surprisingly upbeat - the mostly young people seemed exhilerated by their numbers and the freedom they felt to express anger in the streets.
The object of that anger: The Institutional Revolutionary Party, or PRI, which ruled the nation for 70 years (dislodged in 2000) but is poised to return to power in the July 1 presidential election. But equally, rage was directed at Mexican television which seems to be making the PRI's success inevitable. A few dozen demonstrators wore mock TV sets on their heads, and one was constantly japping at the mute button on a giant, foam remote control:
Some news outlets estimate 90,000 marchers - those numbers are are notoriously unreliable. But there surely were alot of them, and despite what a local vendor told us (spouting a notion floated by the political elite) they can't ALL have been paid with 100 pesos and a sandwich by leftist candidate Andres Obrador!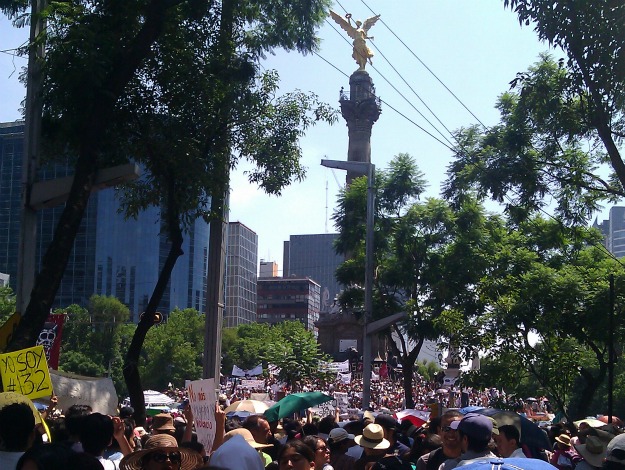 So, we talked with many people and found very little cynicism in these streets. (Unless you count my brief exchange with the puppet of what surely must be The World's Worst Ventriloquist.)
More in: