It's time again for a few of our favorite things. Please leave us comments below and enjoy.
Sarah Abdurrahman: If you have ever seen Comedy Central Roasts of celebrities, you know that they are basically just a bunch of comedians one upping each other with how vulgar, offensive and shocking they can be in their insults of one another and the roastee.  That is why the only way to be truly shocking on a Comedy Central Roast is to go in the complete opposite direction—telling corny, clean jokes but delivering them with the same dry wit as the crude ones—just like Norm MacDonald did during the roast of former Full House dad Bob Saget.  For an audience expecting an R-rated set from Norm MacDonald, the shock came in hearing him deliver G-rated jokes like: "There are times when bob has something on his mind…when he wears a hat!"  I highly recommend watching his whole set here:
Alex Goldman: Ever had a song stuck in your head for weeks, or even months? Well, I've had the song "Parlour Games" by Six Finger Satellite stuck in my head for about 14 years. I listen to it at least once a week. It's as close to a perfect template for an amazing rock song as I can think of. It's the ultimate earworm, so listen at your own risk. But if you're into it, Six Finger Satellite's entire catalogue is worth listening to, and they pull off a nearly unheard of feat in the history of rock music – their final album, Law of Ruins is better than everything that came before it (I'm unwilling to acknowledge the existence of any of the recordings of the reformed 6FS, so please don't correct me on Law of Ruins being their final album).
Brooke Gladstone:  Recently, I have gotten seriously into flossing. It makes me feel so fresh. And for inspiration I offer you this instructional video. 
Chris Neary: Have a look at this Wired post about a Japanese speech jamming gun.
As an occasional stutterer who used to stutter a lot more, I'm proud/disturbed to see stuttering treatment technology used to accomplish the speech jamming.
But instead of sci-fi, the Japanese researchers behind the SpeechJammer looked to medical devices used to help people with speech problems. Delayed auditory feedback, or DAF, devices have been used to help stutterers for decades. If a stutterer hears his own voice at a slight delay, stuttering often improves. But if a non-stutterer uses a DAF device designed to help stutterers, he can start stuttering — and the effect is more pronounced if the delay is longer, up to a certain point.
"We utilized DAF to develop a device that can jam remote physically unimpaired people's speech whether they want it or not," write the researchers. "[The] device possesses one characteristic that is different from the usual medical DAF device; namely, the microphone and speaker are located distant from the target."
Being at a distance from the target means it's possible to aim the device at people who are several feet away — sort of like a TV B-Gone, but for people. Bothered by what someone at a meeting is saying? Point the SpeechJammer at him. Can't stand your nattering in-laws? Time for the SpeechJammer. In the wrong hands — criminals, for instance, or repressive governments — the device could have potentially sinister applications. For now, it remains a prototype.
Katya Rogers: My staff pick this week is the On the Media mug!  It's useful, funny and if you pledge $60 to get one you're supporting the work we do here at OTM.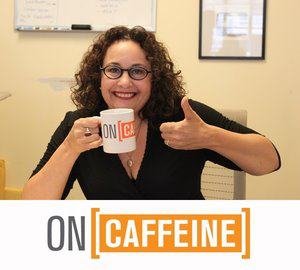 PJ Vogt: I'm typing this staff pick out with a single finger, because our resident Staff Pick wrangling thug, producer Jamie "Knuckles" York, has broken all of my other ones. He said I was too slow in submitting my pick this week. Despite my awful pain, this week my pick is Hot Pink, this collection of short stories by Adam Levin.
That's not actually the cover, that's just a swatch of hot pink. Very pleasant.
Last year Levin published The Instructions, which was a very good novel about a charismatic, violent 10-year old boy who is pretty sure he's the messiah. It was very good but monstrously long. So this new collection is a good way to find out what's so great about Levin without committing yourself to a reading marathon. He writes tough, funny characters who have honest voices and who see beautiful, awful things happen. He's also good at writing stories that make you lose track of whether they're deeply sad or very funny.
You can read this story for free, about the world's most perfect love letter. Within four paragraphs I promise you will pretty much know if Levin is for you or not: http://www.mcsweeneys.net/articles/the-mcsweeneys-books-preview-of-adam-levins-hot-pink
Jamie York: A few years ago in Granta, Binyavanga Wainaina wrote an acidic essay entitled 'How to Write About Africa'.  Among his suggestions:  
Taboo subjects: ordinary domestic scenes, love between Africans (unless a death is involved), references to African writers or intellectuals, mention of school-going children who are not suffering from yaws or Ebola fever or female genital mutilation.
The same truisms could apply to film. Nothing says didactic or issue-oriented like a film about Africa. Which makes Where Are You Taking Me? all the more remarkable.  Director Kimi Takesue wanted to make a participant observer chronicle of Uganda that depicts none of the things she'd seen in every previous treatment.  No war, no genocide, no starvation, no corruption.  Instead her film is a deeply satisfying long look at ordinary Ugandans doing ordinary things; playing, getting married, going to school, waiting, lifting weights.  The camera pays attention and Ugandans look back, raising the issue of what we look at and how we're looked at when we travel.  I can't recommend it enough.
More in:
Jamie York is a producer for On the Media.