On the Media's Celebrity Pledge Show with Robert Krulwich
Thursday, March 08, 2012 - 10:52 AM
It's pledge week at On the Media's parent station WNYC. Hosting this website and our podcast costs our producing station a sizeable chunk of change each year. If you'd like to contribute to WNYC to help keep us online and available to you whenever you want to listen, now is the time to do it. For a one time pledge of $60 you can get our popular ON [CAFFEINE] coffee mug which host Brooke Gladstone can be seen modeling below – follow this link to get the mug or to pledge at any level to WNYC (you can also see the other great thank you gifts on offer).
Normally for our pledge shows, Bob and Brooke spend the hour recalling some of our favorite segments, and talking about how great we are. But instead of tooting our own horns this time around, OTM decided to go to some of our favorite public radio personalities and ask them to tell our listening audience just how amazing, wonderful, and worthy of support we are. All week we've been posting segments featuring Brooke and Bob talking to folks like Terry Gross, Peter Sagal, and Deb Amos. In our final pledge show segment, Brooke talks to Radiolab's Robert Krulwich!
Don't forget to support us at https://pledge3.wnyc.org/epledge/desktop/otm/ or text OTM to 25383 to make a $10 donation via your phone bill. We're counting on your support!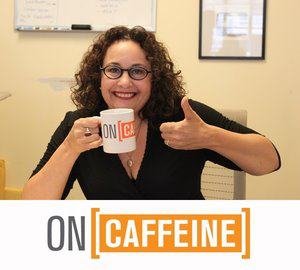 More in:
Alex Goldman is a producer for On the Media. One time he got run over by a car.