The staff of OTM choose a few of our favorite things.  Please leave us comments below and enjoy.
Sarah Abdurrahman: I love all things archival, and am very interested in transportation and its impact on cities (a result of being married to an urban planner).  So this History Channel documentary I saw over the weekend about the New York City subway system was right up my alley.  Fascinating whether you live in the city or not:
Brooke Gladstone: One of NYC's best kept secrets: Art House Auction exhibits. You go to Christie's before a big ticket auction and see rare works by the great and not so great, before they all disappear forever into the homes of rich people.  In these days of internet millionaires, you don't even have to dress well. It's all open to the public and it's free.
Here's some of the great stuff I saw:
This one really had those acquisitive reflexes twitching. As if!: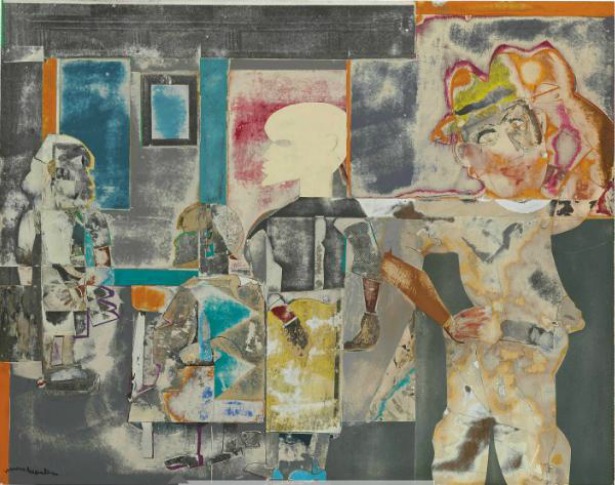 Alex Goldman: My staff pick this week is  "Pickle Surprise" by the video artist Tom Rubnitz. This video pretty much speaks for itself, and attempting to describe what I like about it is kind of a fruitless exercise. You'll love it. Or maybe you'll hate it.
Chris Neary: My staff pick is the first episode of the second season of Sherlock Holmes (BBC). Really great – visually innovative just like last season.
Here's a bit of dialogue from Moriarty at the start of the episode – he's talking within someone on the phone who has obtained something that he can do evil with.
"If you have what you say you have, I will make you rich. If you don't, I'll make you into shoes."
Watch Sherlock Season 2: A Scandal in Belgravia on PBS. See more from Masterpiece.
PJ Vogt:  My staff pick this week is writer Sheila Heti. She wrote this essay called "Why Go Out?" where the premise is that she considers quitting people the way people usually consider quitting smoking:  
"Alan Carr advises smokers who are considering quitting to put the following three questions to themselves, and I think we can also ponder them as we consider whether it is worthwhile to try and be cured of our addiction to people. As the smoker considers smoking, we ask of socializing:
1. What is it doing for me?
2. Do I actually enjoy it?
3. Do I really need to go through life paying through the nose just to stick these things in my mouth and suffocate myself?"
Jamie York: The best article I read last week was a short explainer/book report about the nature of our internal clocks.  The piece, by Kathryn Schulz, is both fascinating (did you know that different internal organs adjust to time changes at different rates, or that the average American lives in constant twilight?) and a bravura act of simplifying an inordinately complicated topic – time.  If you've ever been alive or slept or been self-reflective I highly recommend reading it. 
And I miss Vic Chesnutt:
More in:
Jamie York is a producer for On the Media.