The OTM staff choose a few of our favorite things.  Please, please leave us comments below and enjoy.
Sarah Abdurrahman: Every year, when the weather starts warming up and I can no longer stomach heavy winter comfort foods, I like to go back to one of my favorite salad recipes, which my mom saw years ago on a Rachel Ray cooking show, and we have been making ever since.  It's this Thai Cole Slaw, with fresh basil, cool cucumbers, and sweet red peppers—so light and refreshing, and makes me feel nostalgia for summers at my parents' house. (Rachel Ray's recipe is below, but the Mediterranean in me replaces the canola oil with olive oil.)
1 (16 ounces) prepared shredded cabbage (coleslaw mix) from produce department
1/4 European seedless cucumber, sliced into thin sticks
1 small red bell pepper, seeded and thinly sliced
3 scallions, thinly sliced on bias
20 leaves fresh basil, shredded
Dressing:
1/2 teaspoon crushed red pepper flakes
1 clove garlic, minced
1/4 cup white distilled or rice wine vinegar
2 teaspoons sugar or 2 tablespoons honey
1 tablespoon soy sauce
2 tablespoons vegetable or canola oil
1 teaspoon toasted sesame oil
Garnish:
Toasted sesame seeds
Combine vegetables in a bowl. Combine dressing ingredients in a small plastic container and shake vigorously for 1 minute. Drizzle sauce over vegetables and toss to coat evenly. Let stand 10 minutes and re-toss before serving and garnish with toasted sesame seeds.
Bob Garfield: The Masterpiece Theater version of Sherlock Holmes is exceptionally witty. The direction (save one episode so far) is clever, the dialogue is brilliant and the performances superb. Martin Freeman's Dr. Watson is genius. He's funny delivering lines. He's just as funny between lines, just reacting to Holmes.
Brooke Gladstone: The directors cut of Cameron Crowe's "Almost Famous."  (Blu-Ray.) It's one of the very rare examples of the director's cut adding texture and nuance and enriched enjoyment, rather than detracting from the original experience. (Don't you find yourself agreeing that most "deleted scenes" deserve to be deleted? Not in this case.)  Also the commentary is great – you get to see how much is autobiographical and other goodies. And finally, you are reminded why we made that fuss about Kate Hudson a dozen years ago, and wonder why we don't see more of Patrick Fugit. Really, truly, delightful.
Alex Goldman: Most people familiar with the pop/ska band Madness in the US remember them as the folks behind "Our House," which was a top 10 hit when it was released and has founds its way into a particularly obnoxious commercial. All week I've been listening to the album that "Our House" was spun off from, a UK only release called The Rise & Fall. There's a giddy self-reflection on this album that evokes a couple of albums by Madness's predecessors – namely The Kinks are the Village Green Preservation Society and The Jam's Setting Sons. It's a total masterpiece and I take solace in knowing that I live in a world where music this good exists.
Chris Neary: My staff pick this week is: Notes Relating to the Relocation of the Randolph Family. It's an incredibly well written government document detailing efforts to get an intransigent family to leave a small plot of land the government planned to flood as part of the Tennessee Valley Authority Act of 1933. The government worker (the document only has the name 'Biddle' attached to it – though it's not clear 'Biddle' is the document's author) was put in the position of a reporter. His record of the family's living arrangements and objections to leaving/modern life are funny and well observed. Two examples: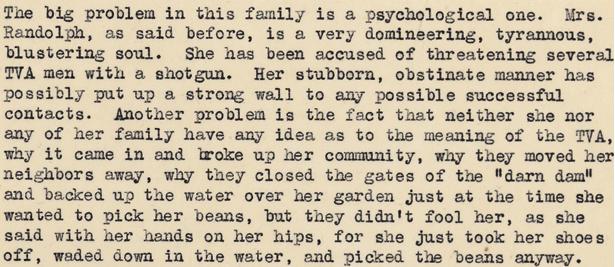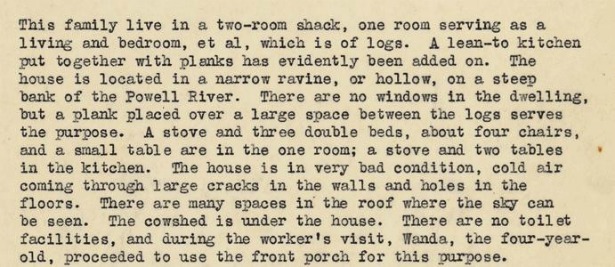 Katya Rogers: The still-very-much-missed John Solomon reported a piece for us back in 2002 about how TV gets birth so wrong but apparently the entertainment industry has progressed not at all in the last 10 years because now we have What to Expect When You're Expecting…the movie. Awesome. More crappy, unrealistic portrayals of pregnancy and birth.
As a pregnant woman I turn to the wealth of books for my pregnancy info; but there's something universally 'off' about this medium too. Flick through any book about birth and you'll notice that if there are photos they will be from the late '70's early 80's as evidenced by the white men with big afro's and short shorts and ladies wearing ethnic jewelry and nothing else. And beanbags. Don't ask.
So the other night I was catching up on my active birth techniques and came across a picture of my mum's really good friends Paul and Annie. They were kind of active birth activists back in the 80's. The picture featured the naked Annie and Paul with the most joyous looks on their faces and the just born Rebecca (who I happen to know is now a practicing pediatrician). I had a nice moment of connection with our old family friends, with birthing women generally and that whole cycle-of-life thing. Maybe this epiphany is too momentous to be a staff pick? Whatever. I'm pregnant.
PJ Vogt: Genius and friend-of-OTM Ethan Zuckerman has invented a new unit to measure how much attention a story gets: the Kardashian.
"Conceptually, the Kardashian is the amount of global attention Kim Kardashian commands across all media over the space of a day. In an ideal, frictionless universe, we'd determine a Kardashian by measuring the percentage of all broadcast media, conversations and thoughts dedicated to Kim Kardashian. In practical terms, we can approximate a Kardashian by using a tool like Google Insights for Search – compare a given search term to Kim Kardashian and you can discover how small a fraction of a Kardashian any given issue or cause merits."
Excellent. Also, if you click through to Zuckerman's blog post, there's further discussion of a similar but different unit, the Jolie, which measures the amount of extra international aid money a country gets when a celebrity chooses it as a pet cause. (Struggling developing world governments might like to know that the Jolie's worth about a 27x increase in aid money)
Finally, I'd be remiss if I didn't credit my pick this week to diehard Kim Kardashian fan Jamie York.
Jamie York:  First, there were two newspaper investigative series from last week that I thought were stellar.  
The Chicago Tribune did a five part look at flame retardants. Seriously. They're chemicals that are found in all manner of home furnishings, textiles and, in alarming quantities, us.  The average American baby is born with the highest levels of flame retardants in the world. The Tribune found that not only do they not work but their ubiquity is the direct result of the tobacco industry conspiring to shift blame for cigarette fires.  Cleverly, big tobacco argued, cigarettes didn't start fires, the furniture was to blame. 
And The New York Times did a two part look at sexual abuse in the ultra-Orthodox Jewish community in New York and the Brooklyn D.A. who has been quietly complicit.  It's a devastating appraisal.
And we're talking about doing an entire show dedicated to television next week.  In that spirit I'd like to celebrate my favorite bit of TV anarchy.  TV Party was a NYC cable-access show that broadcast from 1978 to 1982.  Hosted by the inestimable Glenn O'Brien, regular guests included Blondie, Talking Heads, Mick Jones, Iggy Pop, the B52's, Klaus Nomi, John Lurie, DNA, Alex Chilton, George Clinton, Jean-Michel Basquiat and Fab Five Freddy.  It was usually chaos and that was the charm.    
More in:
Jamie York is a producer for On the Media.