New data radically revises what we know about our 'secret' war in Cambodia.
There's a scene in the Errol Morris documentary The Fog Of War where the film's subject, Robert McNamara, explains his role in the U.S. firebombing of Japan during WWII.  It's his fifth life lesson: "proportionality should be a guideline in war."
It starts at 2:33 and it still stops me short.
Because the extent of our destruction of Japan prior to the dropping of the atomic bomb was news to me.  But it wasn't news, per se.  It had been reported.  Not so with our next war.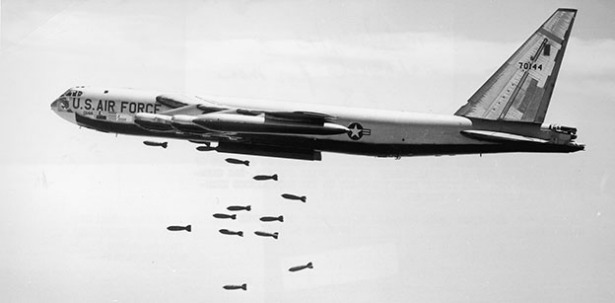 I visited Laos and Cambodia last year and have had a low-grade obsession ever since with the war that we waged on both those countries.  These are typically called "secret" wars, overspill from our war in Vietnam.  They of course weren't a secret to the Cambodians or the Lao (who estimate that there was a bombing run on Laos every eight minutes around the clock for nine years between 1964 to 1973, 30% of which are estimated to still be unexploded) and they've been reported on here since the late 1970's.  But recent research caught my attention.  A post-doc at the University of British Columbia named Taylor Owen began working with a remarkable database that details the U.S. bombing campaign in Indochina during the Vietnam War.  This information was declassified by then-President Bill Clinton as a gift to humanitarian groups (they wanted the data so they could more efficiently find and defuse the massive number of unexploded bombs) when he visited Vietnam for the first time in 2000.  
The data is highly specific, detailing what was known as "Operation Menu" with precise coordinates for each bomb dropped.  So much so that it's taken Owen years to go through it and map it out.  But it tells an entirely new story about a war that experts thought they'd already understood.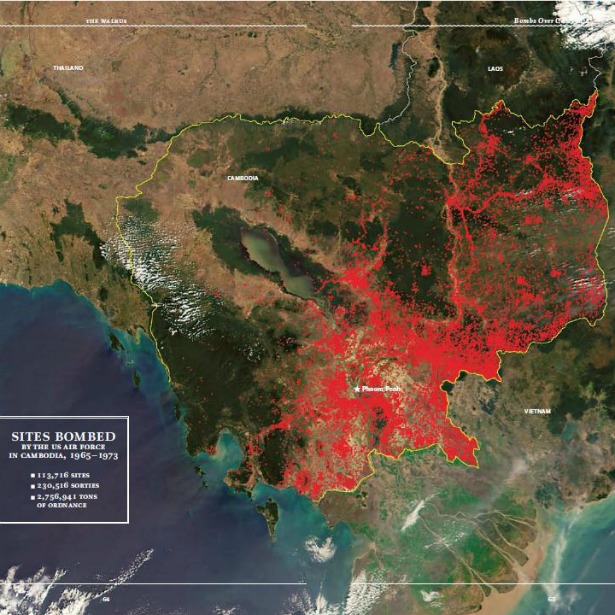 Taylor summed up his findings at a presentation in March:
TAYLOR: "The total tonnage dropped on Cambodia was five times greater than previously known; the bombing inside Cambodia began nearly 4 years prior to the supposed start of the Menu Campaign, under the Johnson Administration; that, in contradiction to Henry Kissinger's claims, and over the warning of the Joints Chiefs of Staff, Base Areas 704, 354 and 707 were all heavily bombed; the bombing intensity increased throughout the summer of 1973, after Congress barred any such increase; and, that despite claims by both Kissinger and Nixon to the contrary, there was substantial bombing within 1km of inhabited villages."

Owen's analysis revealed that the U.S. dropped 2,356,941 tons of ordnance on Cambodia.  Just over 10% of it was indiscriminate. That's hundreds of thousands of tons more than the Allies dropped during all of World War II.  Cambodia, he determined, might be the most heavily bombed country in history. 
But Owen didn't stop there.  He juxtaposed it with a social science project that was conducted in Cambodia in the years after the bombing concluded.  A researcher conducted thousands of interviews in the Cambodian countryside with people who'd narrowly survived bombings.  He noted where they were and asked them about the immediate aftermath.  What he found was that the still nascent Khmer Rouge was using the U.S. bombing campaign as a recruitment and incitement tool.  A Khmer Rouge representative would show up on your farm just after you'd been bombed by the U.S. and capitalize on your anger to swell their ranks.  Our 'secret' war inadvertently bolstered the Khmer Rouge which would go on to commit one of the bloodiest genocides in the 20th century.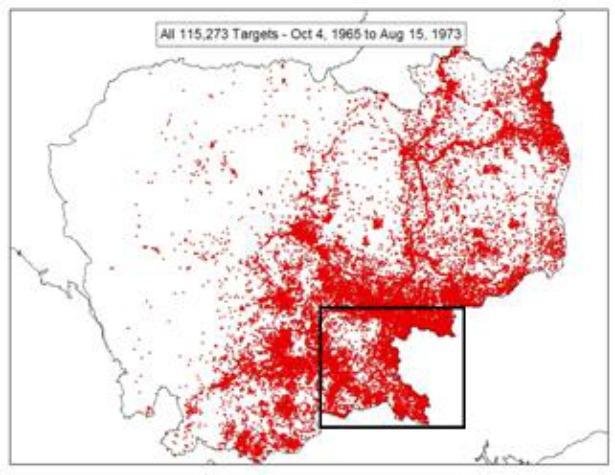 The unintended consequence of our effort to scorch the earth of the Vietcong was that the Khmer Rouge filled the void.  And Owen goes on to argue that this misunderstanding of how insurgencies thrive is a lesson we have yet to learn.
So what difference does revisiting and revising a 40-year-old war make?
Well, Owen argues that we, as citizens, have a responsibility to understand and take responsibility for our past.  Arguably, so as not to repeat ourselves. But really, what difference does a more educated populace make when it comes to U.S. military policy?  We don't vote on military tactics.  Our effect on them is indirect and abstract. An honest appraisal of the past is partly a moral exercise but does revising our drafts of history have any practical impact?
Owen points out that what we inadvertently did in Cambodia is eerily similar to our campaign in Pakistan and Afghanistan right now. Every time a U.S. aerial strike mistakenly kills civilians it feeds the insurgencies there – Al Qaeda and the Taliban.  Perhaps, if nothing else, our current interests will draw us back to the lessons of the past. 
More in:
Jamie York is a producer for On the Media.