The OTM staff choose a few of our favorite things.  Please, please leave us comments below and enjoy.
Sarah Abdurrahman: (Since Sarah is simply too busy to produce a staff pick this week, we have asked intern Rob Schoon to ghostwrite a staff pick on her behalf). Anyone who knows me well, knows that I'm a huge fan of schlocky old horror movies. So it might surprise you to find out that I'd never seen The Texas Chainsaw Massacre 2 – the 1986 one starring Dennis Hopper – until this weekend. Leatherface and family are back in this sequel to the 1974 shocker. But the best part about this movie isn't the gore: unlike its predecessor, the sequel is a black comedy. Watch this movie for the gore-covered (yet, dare I say heartwarming?) joviality that ensues when Leatherface falls in love with the movie's protagonist, Stretch, and attempts to court her in several bone-chilling, icky, and hilariously absurd scenes. Also, the "girl who lives" character in the film works in radio – a plus. 
Bob Garfield: On the subject of famous-name diseases and charities, you'd be amused to listen to this, and then watch this from Arrested Development.
Brooke Gladstone: PARASISAL. A kind of straw for hats. Same as sisal, but lighter, thinner, more airy. You see I sweat in summer. (I even tweeted a haiku about it: Broiling like Venus. Sweat pools in eyes, socks, bra, brain. Gravity like Mars.) I love hats, but couldn't wear them on the hottest days because even the nicest panama fedora felt too heavy on my head. Until parasisal. Practically weightless. Incredibly expensive. I don't care. I bought a hat of parasisal. Deep brim. Ribbon. Maybe I'll post a pic later.
Alex Goldman: My staff pick for this week is the original Alien from 1979. I had an opportunity to see it in the theater this weekend at Lincoln Center, and in spite of an annoyingly geeky crowd of loud talkers, it was as suspenseful and atmospheric as I remembered it.
Although I love Alien, I have to admit that Aliens is my favorite movie in the series (especially the director's cut). I know that this is a controversial opinion because a lot of people think Scott's alien is the definitive one, but what other horror/sci-fi/action film is an overarching meditation on motherhood? Also, what other action movie has a simpering whiner like Private Hudson?
As for the other movies in the Alien series, well, they're best left unmentioned. But I do wish that Alien³ had ended up more like the original screenplay, which featured an alien rampaging through a space monastery on a wooden planet inhabited by technophobic monks. No, really.
Chris Neary: The 150thAnniversary  episode special of the Family Guy is tremendous. One of the best episodes of any show, ever. Here's a preview clip on Hulu. (Doesn't really do it justice). You'll have to have Hulu+ or be patient and find it on syndication. Here's the Wikipedia page if you're into spoilers.
PJ Vogt: Apropos of our hour on the future of television this week, I really love this Sam Anderson essay that draws a wobbly line from critic Roland Barthes to the TV recap. Barthes was a mid-century French critic who, as Anderson nicely explains, had the weird power to "[make] it seem as if you were understanding familiar things (the luxuriousness of foam, the significance of a monk's haircut) for the very first time." Anderson talks nicely about how today's critics are Barthes-disciples, whether or not they know it. 
Bonus/related staff pick. One day, bookstores will wise up and devote a shelf to the genre of book that is "Smart Person Who Experienced Awful Grief and Wrote about It." It'd have Joan Didion's Year of Magical Thinking, James Agee's A Death in the Family, Alison Bechdel's Fun House, and Roland Barthes' Mourning Diary. When his mother died, Barthes kept notes, handwritten index cards about what he was feeling and thinking.  You can see some of them here. For lack of a less dumb way to put this, they're nice to look at.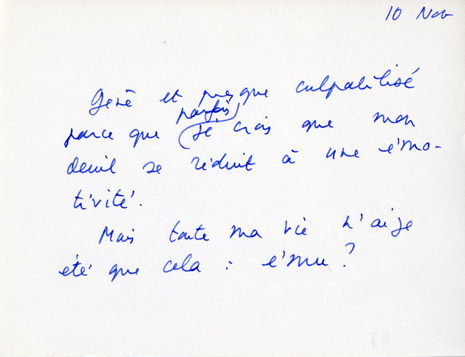 Jamie York:  My pick this week is a store here in NYC.  It's called Kiosk and it consists of common objects found in travels around the world.  Heavily curated, with nicely written travelogues and provenance cards for every item, the store elevates bottle openers and dustpans to the place of art.  That said, I'm not much of a design fetishist or an object lover.  The satisfaction at Kiosk comes precisely from looking at the most ordinary, everyday things that are slightly different because they're of a place.  It's a way to mainline one of the deepest pleasures of traveling – seeing the simplest things that are somehow profoundly different - foreign.  I go every so often to remind myself that not everything has been homogenized.
More in:
Alex Goldman is a producer for On the Media. One time he got run over by a car.