Note: The Liam Neeson staff pick isn't about one of the 'Taken' movies. Also, why wasn't 'Taken 2,' called 'Took'? 'Die Hard' did it with 'Die Harder.'
Bob Garfield
The 2009 indy Five Minutes of Heaven with Liam Neesen, James Nesbitt and (briefly but winningly) Anamaria Marinca did well at Sundance, not so well in the real world. Directed by Oliver Hirschbiegel from Guy Hibbert's script, the film is about a televised confrontation between a victim of Northern Ireland's "troubles" and his brother's murderer. Neeson is very strong as the ex-UVF (protestant) terrorist, now 40 years wiser. Nesbitt is astonishing as the boy witness, now grown but 40 years vengeful. 
But never mind that. I commend this movie for it's absolutely pitch perfect depiction of the BBC-like TV production at the center of the plot. Typically, as
we've observed
, the inside-TV and films seen within actual TV and films is unrecognizable. Hibbert's and Hirschbiegel's genius here is to totally capture the goldplate of earnestness and empathy anodized onto the base metal of cynicism. Magnificent.
Jamie York
Just by chance I'm going light and dark this week:
We'll start with the light.  How did I make it into my late 30's without ever seeing Singing in the Rain?  This probably doesn't need to be picked, it's a stone cold classic but if your memory of it is the least bit hazy GO SEE IT NOW.  Its strength comes not just from the pure unfettered joy of the dance sequences but also from the fun of the very meta plot and the long, trippy, Busby-Berkley esque sequence in the middle.  There's a lot more to the movie then dancing (and singing) in the rain.
And the dark is Louis Menand's book review/historical essay on the long arm of the Soviet Union in Eastern Europe after World War II. I did some reporting in Poland this year and tried to find precise stats on the number of Jews who survived and the redistribution of people in Poland during and after the war and I found hard numbers very difficult to come by. Menand's piece (a highly complimentary review of Anne Applebaum's new book Iron Curtain: The Crushing of Eastern Europe) is a devastating look at Poland's damned geography between Germany and Russia and the way Russia almost scientifically brutalized the 'Eastern Bloc' after the war. It's a history that feels important because it's so largely hidden; most survivors of that time would just as soon forget and most historians have turned away.
Alex Goldman
This weekend, I saw The Perks of Being a Wallflower an adaptation of the 1999 book of the same name about a mid-90's mentally ill teenager in the suburbs who listens to a lot of indie rock and casually does drugs. And, as a mid-90's mentally ill teenager in the suburbs who listened to a lot of indie rock and casually did drugs, it really spoke to me. The soundtrack was great: XTC, Sonic Youth, L7, Cracker, Galaxie 500, The Cocteau Twins. If they had thrown in some Touch & Go bands, it basically would have been my childhood. So, if you've ever said to yourself "I wonder what a movie about OTM producer Alex Goldman's adolescence but featured much more attractive and well spoken players would look like," wonder no more.
PJ Vogt
I just read two good books over the weekend, so I'm giving you guys two staff picks for the price of one. 
One was Room. It's about a 5-year old who lives with his mother in a room that he's never left. There isn't a word for the genre that this book is, but it's sort of like, a well-designed plot machine that has enough literary gristle to be worthwhile instead of just a dumb page turner. I recommend it.
The other one I'm not done yet, but I feel comfortable recommending. It's Behind the Beautiful Forevers, by Katherine Boo. It's about people living in the slums in Mumbai. It's nonfiction, but it reads like really good fiction. So far, the only distracting thing about it is wondering how the hell she gets so far into the story and so far into her characters heads. Holy crap. She's good. 
(If the book takes a sudden nosedive toward badness, I'll be back next week in staff picks to warn everyone off.)
Chris Neary
I did some reporting for WNYC's great newsroom this weekend from the Red Hook Houses this week. As of Saturday morning some residents still didn't have power. That's a long, long time not to have power. Many don't have heat. So, if you can, donate to the
Red Hook Initiative
.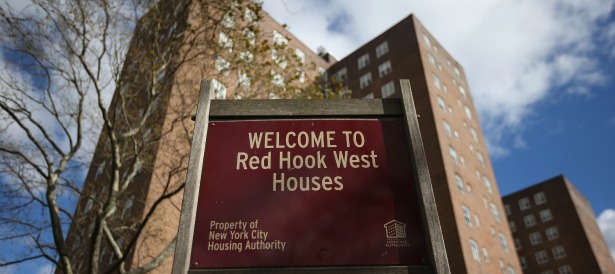 Doug Anderson
For my staff pick this week, I'm echoing the good people at Vimeo who chose this "Invisible Bicycle Helmet" video as one of their staff picks. I hope you'll agree that this surprisingly suspenseful three-minute presentation deserves to be the pick of many staffs.
The Invisible Bicycle Helmet | Fredrik Gertten from Focus Forward Films on Vimeo.
More in: