We can't give you turkeys. Or at least sending each of our listeners a turkey would be logistically daunting and prohibitively expensive. We can give you staff picks, however -- and here they are.
Bob Garfield
Here's an opportunity to see two of the greatest living English-language novelists approach similar material in gigantically different way. I just finished "A Sense of an Ending" (2011), by Julian Barnes, earning him (for the second time) the Man Booker Prize. It is a stirring contemplating -- as the protagonist reaches the ear-hair stage of life -- of choices made, regrets and revisionist memories. This is thematically quite like Philip Roth's 2006 "Everyman," for which he won (for the third time) the PEN/Faulkner Award for Fiction.  The books are equally poignant, equally human. There is one vast difference. One is soaked in business and recrimination. The other is by Julian Barnes.
Chris Neary
I haven't seen the new movie Silver Linings Playbook. It's opening tomorrow and stars Robert DeNiro and Bradley Cooper. I'm picking it this week anyway because part of it was filmed in my home town of Ridley, PA. A synopsis from IMDB:
After a stint in a mental institution, former teacher Pat Solitano moves back in with his parents and tries to reconcile with his ex-wife. Things get more challenging when Pat meets Tiffany, a mysterious girl with problems of her own.
So far as I can tell, obsessive fandom of the Philadelphia Eagles by the residents of Ridley is a big part of the movie. I can confirm with absolute confidence that in this at least, the filmmakers could not have picked a better town. The Eagles are a huge part of life growing up there. It's something like the relationships other people have to a major college football alma mater, I think. My family never missed a game on TV.  That the main character is (evidently) Italian is a nice touch -- that's a big part of Ridley too.
Alex Goldman
As you could probably guess by the fact that I chose a career in public radio, I'm all about gettin' money. So my staff pick this week is the Pase Rock tune "Git Muny." It's a banger.
Sarah Abdurrahman
I love this 2010 series of commercials from Egypt for a product called Panda Cheese. The campaign, called "Never Say No to Panda", shows people in different scenarios being offered Panda Cheese. The people always decline, at which point a giant panda shows up to make them regret their decision. Really funny, especially when watched all together like this:
Jamie York
I'm looking forward to standing on the edge of Pemaquid point tonight, I should get there just about at dusk.  What happens at Pemaquid Point at dusk, you ask?  Absolutely everything.  It's one of my favorite places, the greatest expanse I get to with any regularity.  And it's why my pick this week is the horizon.
Last weekend I attended a daylong conference on solitary confinement.  A few survivors of longtime solitary talked about precisely how the experience had driven them mad.  Breyten Breytenbach, a poet and anti-apartheid activist imprisoned in South Africa for years, said that the obvious thing that unhinges you is the lack of human contact.
But he also said that his cell had a window but the light was indirect, and so the less obvious thing he realized he lacked was a horizon. This is what undid him - there was no way to judge distance, no perspective, no edge to the abyss. 
About 7 years ago Harper's published an excerpt from A Field Guide To Getting Lost by the great essayist Rebecca Solnit. It's called 'The Blue of Distance' and her description of horizons is one I think about all the time.  Because the essay is locked behind a paywall I've excerpted some of it here.
"The world is blue at its edges and blue in its depths. This blue is the light that got lost. Light at the blue end of the spectrum does not travel the whole distance from the sun to us. It disperses among the molecules of the air, it scatters in water.  Shallow water appears to be the color of whatever lies beneath it, but deep water is full of this scattered light, the purer the water the deeper the blue.  The sky is blue for the same reason but the blue at the horizon, the blue of land that seems to dissolve into the sky, is a deeper, dreamier, melancholy blue, the blue of distance.  This light that does not touch us, does not travel the whole distance, the light that gets lost, gives us the beauty of the world, so much of which is in the color blue.
For many years, I have been moved by the blue at the far edge of what can be seen, the color of horizons, of remote mountain ranges, of anything far away.  The color of that distance is the color of solitude and of desire, the color of there seen from here, the color of where you are not. And the color of where you can never go.  For the blue is not at the horizon but in the distance between you and the mountains. "Longing," says the poet Robert Hass, "because desire is full of endless distances." We treat desire as a problem to be solved, though I wonder with a slight adjustment of perspective it could be cherished as a sensation on its own terms, since it is as inherent to the human condition as blue is to distance.  Something of desire will only be relocated, not assuaged, by acquisition, just as the mountains cease to be blue when you arrive among them, and the blue instead tints the next beyond. 
In the fifteenth century, European painters began to paint the blue of distance.  Earlier artists had not been much concerned with the faraway in their art.  Sometimes a solid wall of gold had backed up the saints and patrons, sometimes the space curved around as though the earth were indeed a sphere but we were on the inside.  When painters became more concerned with rendering the world as it appeared to the human eye, they seized upon the blue of distance as a means of giving depth and dimension to their work.  Leonardo da Vinci wrote "to make one appear more distant than another, you should represent the air as rather dense. Therefore make the first building of its own color; the next most distant make less outlined and more blue; that which you wish to show at yet another distance make bluer yet again; and that which is five times more distant make five times more blue."  The painters seem to be smitten with the blue of distance, and when you look at these painting it is easy to imaging a world where you could walk through an expanse of green grass, brown tree trunks, and white houses, and then suddenly arrive in the blue country where grass, trees, houses are blue, and perhaps if you looked down, you, too, would be as blue as the Hindu god Krishna.
For the elderly the nearby and recent often become vague and only the faraway in time and space is vivid.  But for children it's the distance that holds little interest.  It is a concept foreign to childhood: for a baby a mother in the other room is gone forever, for a child the time until a birthday is endless. For children whatever is absent is impossible, irretrievable, unreachable.  Gary Paul Nabhan writes about taking his children to the canyons of Colorado, where he realized "how much time adults spend scanning the land for picturesque panoramas and scenic overlooks. While the kids were on their hands and knees, engaged with what was immediately before them, we adults traveled by abstraction."  Whenever they approached a promontory, his son and daughter would "abruptly release their hands from mine, to scour the ground for bones, pine cones, sparkly sandstone, feathers, or wildflowers." The mental landscape of the young is like that of medieval paintings: a foreground full of vivid things and then a wall.  The blue of distance come with time, with the discovery of the melancholy, of loss, the texture of longing, of the complexity of the terrain we traverse, and with the years of travel.  If sorrow and beauty are tied up together, then perhaps maturity brings with it not what Nabhan calls abstraction but an aesthetic sense that partially redeems the losses time brings, and finds beauty in the faraway."

Doug Anderson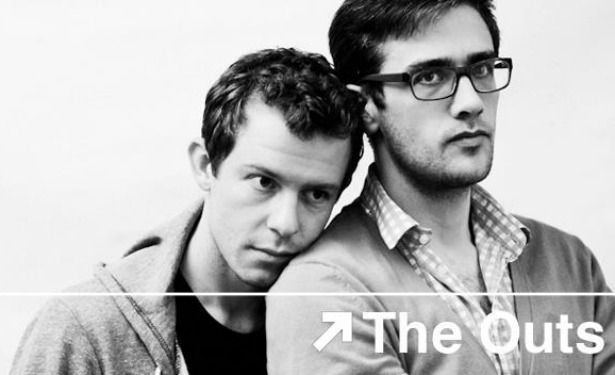 The Outs is a charming web series about gay 20-somethings in Brooklyn. (Disclosure: I have done some technical sound work on the show.) It's the brainchild of 27-year-old Adam Goldman, recently honored by Out magazine as one of this year's Out100. The story centers around the characters Jack and Mitchell, who find themselves in the throes of a complicated breakup. Adding to the fun—and mayhem—is Mitchell's snarky best friend, Oona. The season's sixth and final kickstarter-funded episode premiered last night,and fans can look forward to a special Chanukah episode. Content warning: this show is always entertaining, frequently hilarious, and occasionally racy.
The Outs: State of the Union from The Outs on Vimeo.
PJ Vogt
I know Staff Picks isn't a competition, and if it were I wouldn't want to show up my colleagues by consistently bringing two staff picks instead of a mere, measly one. Unfortunately, this week, like last week, I am that guy.
Staff pick 1: More genre fiction! Gillian Flynn's first book, which I ripped through early this week, is pretty good. It's called Sharp Objects, and it's about a reporter investigating a series of child murders in her small town. The writing's nice, the journalism stuff is spot-on and kind of meta (you see the heroine's stories about the case, and listen as she beats herself up about how her stories are hacky). The ending is maybe a little predicable, but not in a way that'd makes you feel cheated. 
Staff pick 2: Maybe I'm the last person on the internet to know this, but Karl Rove maintains a personal website where he keeps a reading list of what he's read and how he felt about it. 
Clearly a dude after my own heart. Anyway. Someone who has more free time than me should just start reading everything Karl reads and start an online bookclub with him. I would do it but it's a mix of enormous non-fiction history tomes, right-wing think piece books, and spy fiction, and I only really like the third one. 
More in: