This election season has everyone dwelling on the untrue, the misleading, and the tedious. Here are our staff picks, a palate cleansing cocktail of uncomplicated goodness sure to brighten your day.
Brooke Gladstone
I had a delightful time recently with Flann O'Brien's short but effulgent novel, The Third Policeman. Magical mystery murder that crosses James Joyce with Terry Pratchett and ah, such wordplay! In this excerpt, the protagonist goes to bed after a very, VERY hard day:
I opened the bed fastidiously, lay into the middle of it, closed it up again carefully and let out a sigh of happiness and rest. I felt as if all my weariness and perplexities of the day had descended on me pleasurably like a great heavy quilt which would keep me warm and sleepy. My knees opened up like rosebuds in rich sunlight, pushing my shins two inches further to the bottom of the bed. Every joint became loose and foolish and devoid of true utility. Every inch of my person gained weight with every second until the total burden on the bed was approximately five hundred thousand tons. This was evenly distributed on the four wooden legs of the bed, which had by now become an integral part of the universe. My eyelids, each weighing no less than four tons, slewed ponderously across my eyeballs. My narrow shins, itchier and more remote in their agony of relaxation, moved further away from me till my happy toes pressed closely on the bars. My position was completely horizontal, ponderous, absolute and incontrovertible. United with the bed I became momentous and planetary. Far away from the bed I could see the outside night framed neatly in the window as if it were a picture on the wall. There was a bright star in one corner with other smaller stars elsewhere littered about in sublime profusion. Lying quietly and dead-eyed, I reflected on how new the night was, how distinctive and unaccustomed in its individuality. Robbing me of the reassurance of my eyesight, it was disintegrating my bodily personality in a flux of colour, smell, recollection, desire – all the strange uncounted essences of terrestrial and spiritual existence. I was deprived of definition, position and magnitude and my significance was considerably diminished. Lying there, I felt the weariness ebbing from me slowly, like a tide retiring over limitless sands. The feeling was so pleasurable and profound that I sighed again a long sound of happiness. - ― Flann O'Brien, The Third Policeman
It was highly recommended by a novelist friend. It turns out James Joyce and Samuel Beckett also admired O'Brien and it's easy to see why. But it's not an English lit slog. For an SF mystery fan like myself if was pure pleasure. But DON'T read the afterward first or you'll ruin it.
Alex Goldman
My staff pick is … I don't know. My heart's not in it today. What's a good stand-by staff pick that everyone'll love? How about Evil Dead II? Sure. Evil Dead II. Zombie hand, cabin in the woods, Three Stooges-style slapstick, buckets of blood. There you go. Staff Pick.
PJ Vogt
There was a time in the VHS era when every dwindling celebrity was ordered to create a workout video, regardless of whether they were famous for being in shape or not. Vulture did an interview with Aaron Valdez, a YouTube genius who has collected an astonishing collection of them. But really, you owe it to yourself to just go directly to the dude's YouTube channel. Marky Mark! OJ Simpson! Angela Landsbury! Milton Berle?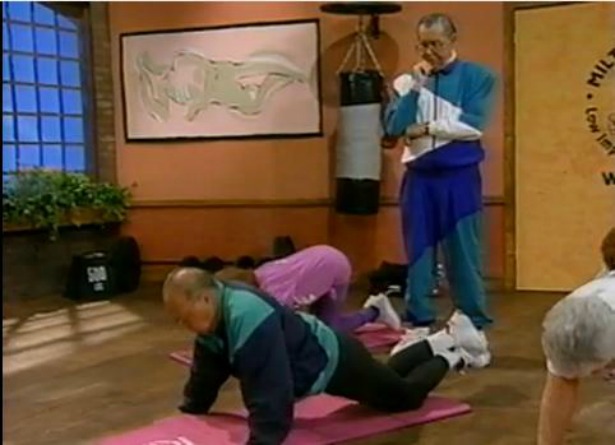 Chris Neary
Here's a time lapse video of someone drawing Lower Manhattan (where we work!) from the perspective the Empire State Building.
Empire State of Pen from BigAnimal on Vimeo.
I'm a big Empire State Building fan - and this video made me think of a F. Scott Fitzgerald essay about coming back to New York City as a world-weary adult after having lived here as a young man. He climbs the then new Empire State Building and looks over the city (maybe with the same view as above) and realizes that the city isn't endless.
...so now I went to the roof of the last and most magnificent of towers. Then I understood — everything was explained: I had discovered the crowning error of the city, its Pandora's box. Full of vaunting pride the New Yorker had climbed here and seen with dismay what he had never suspected, that the city was not the endless succession of canyons that he had supposed but that it had limits - from the tallest structure he saw for the first time that it faded out into the country on all sides, into an expanse of green and blue that alone was limitless. And with the awful realization that New York was a city after all and not a universe, the whole shining edifice that he had reared in his imagination came crashing to the ground. That was the rash gift of Alfred W. Smith to the citizens of New York. - F. Scott Fitzgerald
One more thing: It's the start of the NFL regular season tomorrow night. Football highlights will be my staff pick for the next 21 weeks.
Jamie York
Two picks.
I loved and was riveted by Jerry Adler's Wired piece this month on the absolute latest in high frequency trading.  A growing majority of the trading taking place in the financial markets is being done by computer and the winner is whoever (or whatever) can execute the trade first and most often. Companies are building out connections between Chicago (where most futures and options trading is done) and New York (where the rest of trades are executed in the U.S.) that are at the bleeding edge of technology – all for a fraction of a second and all for a lead that might be obsolete by the time the connection infrastructure is built-out.  And that leaves aside the ramifications of computers coming to control the financial system.  Human traders, let alone human investors have no role in this market – we've lost any grip we once had.  I reported a little about this about a year and a half ago but it continues at a breakneck pace, already out beyond the bounds of reason.  
And Chris Whitley.  I miss him. Whitley was around New York when I first moved here, I'd see him regularly on the street, he drank at The Grange Hall and I saw him play dozens of cheap shows at places like Tonic.  He was restless and a fearless experimenter with his National steel guitar and I loved being able to watch him work through whatever noise he needed to make for just a little something beautiful.  He died in 2005.
More in:
Chris Neary is a producer for On the Media.