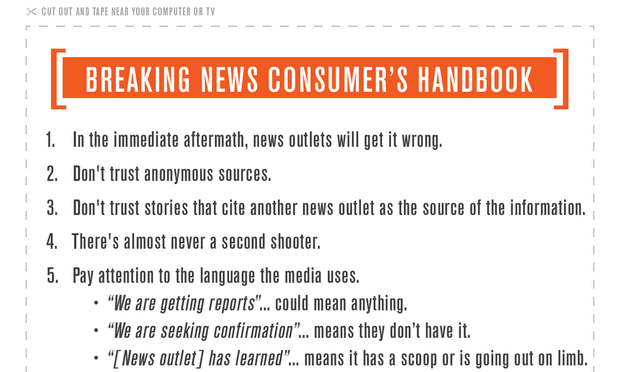 (On the Media/WNYC)
In September of 2013 we created a list of best practices that will help you, the media consumer, weed out bad information reported by the media in the wake of mass shootings. Why? Because the news after such events is invariably wrong in key respects.
You can see our print version of the Breaking News Consumer's Handbook by following this link, or you can print it out as a PDF the next time there's a breaking news event.
On the Media's formulas for how to spot rampant misreporting in breaking news.

More
This week's shooting at the DC Navy Yard was the latest in a long string of breaking news reporting to get many of the essential facts wrong. 
In fact, the rampant misreporting that follows shootings like this is so predictable that OTM has unintentionally developed a formula for covering them. We look at how all the bad information came out. We suggest ways that the news media could better report breaking news. This time, we're doing something different.
This is our Breaking News Consumer's Handbook.  Rather than counting on news outlets to get it right, we're looking at the other end. Below are some tips for how, in the wake of a big, tragic story, you can sort good information from bad. We've even made a handy, printable PDF that you can tape to your wall the next time you encounter a big news event.