New York Is Gross
Thursday, February 27, 2014 - 09:25 AM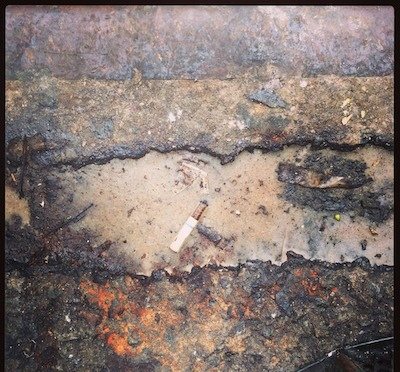 (New York is Gross)
(Full disclosure: a friend from real life started this thing, but wants to remain anonymous)
What I like about this is that it fixes this problem that I'd forgotten I had with living in New York, or, really, any city. Every day, there's a certain amount of filth that you see and then expend a tiny bit of psychic energy ignoring. (Think about summer's hot garbage smell, the great dog poop thaw of Spring, or Winter's frozen, fused together trash landscape.)
You'd think that inspecting those things more closely would feel worse, but actually, actively looking for the grossest stuff has improved my experience of daily city life. When I see a pile of particularly gross detritus, I now get a thrill of a hunter who's just stumbled on game. It could be a submission.
I bounced this idea of New York Is Gross's owner:
"I agree so completely about seeing filth. Which is interesting because I'm also noticing it more than ever. But despite that -- it feels better. Or manageable or something. I think it's part of why I wanted to do it. I feel like it's a part of living here that people don't process. And I think this is just kind of a bearable way to do that -- and to see it and think about it. It's also a little way to push back against all the sunsets, babies and food photos -- which I'm guilty of too -- on Instagram."
There's a version of this blog that could scan as offensive, and maybe for some people New York Is Gross will. If you take pride in keeping your city and your neighborhood clean, it can be annoying to see the worst stuff get highlighted.
But for me, what makes this feel good, for lack of a more specific descriptor, is that the pictures have some beauty to them. Also, while the blog's on both Instagram and Tumblr, I think there's an argument to be made that it's better experienced as an Instagram feed. Instagram is filled with so many pictures of manicured beauty, it's nice to get the occasional pee bottle thrown in to mix things up.
More in: