Deb Amos
Wednesday, March 07, 2012
It's pledge week at On the Media's parent station WNYC. Hosting this website and our podcast costs our producing station a sizeable chunk of change each year. If you'd like to contribute to WNYC to help keep us online and available to you whenever you want to listen, now is the time to do it. For a one time pledge of $60 you can get our popular ON [CAFFEINE] coffee mug which host Brooke Gladstone can be seen modeling below – follow this link to get the mug or to pledge at any level to WNYC (you can also see the other great thank you gifts on offer).
Normally for our pledge shows, Bob and Brooke spend the hour recalling some of our favorite segments, and talking about how great we are. But instead of tooting our own horns this time around, OTM decided to go to some of our favorite public radio personalities and ask them to tell our listening audience just how amazing, wonderful, and worthy of support we are. In this segment, Brooke talks to Deb Amos, an NPR correspondent who covers the middle east.  
We still have one more segment from our pledge show to come, so check our blog again tomorrow!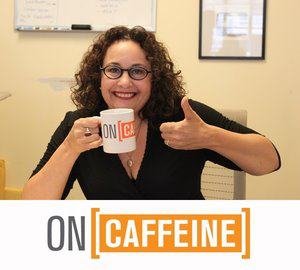 Read More