Wikileaks
Friday, March 15, 2013
Late last month, Bradley Manning pled guilty to 10 of the 22 charges against him for leaking a trove of information to WikiLeaks. He did not plead guilty to 'aiding the enemy,' a capital offense. Brooke talks to University of Chicago law professor Geoffrey Stone about the validity of the 'aiding the enemy' charge.
Friday, March 15, 2013
Coverage of the Manning trial has been inconsistent at best - in part due to a lack of press interest, and in part because the government is making this story difficult to report. Brooke talks to Arun Rath, a reporter for PBS's Frontline and PRI's The World, who says that few members are actually there following the pre-trial minutiae at Fort Meade. When they are, he says, they're not in the courtroom, but in the press room.
Rahim Alhaj - Dance of the Palms
Friday, March 15, 2013
Before sending hundreds of thousands of classified documents to Wikileaks, Bradley Manning says he tried to give those same documents to the New York Times. The Times, he says, never returned his call. Brooke speaks with Bill Keller, New York Times Op-Ed columnist and former Executive Editor, who wondered this week how the Manning story would be different if the Times had worked with him directly.
Friday, March 15, 2013
In the wake of WikiLeaks' meteoric rise to the world stage in 2010, dozens of copycat leaking sites popped up all over the globe. Today, only a handful remain active. Brooke talks to Ars Technica Senior Business Editor Cyrus Farivar, about what happened to these sites and which leaking sites are still active and impactful.
Kronos Quartet - Tilliboyo (Sunset)
Friday, December 09, 2011
When the diplomatic cables leaked online last year via Wikileaks, the world saw thousands and thousands of behind-the-scenes conversations that are ordinarily classified.  The American Civil Liberties Union saw an opportunity.  They filed a freedom of information request with the State Department and requested 23 of the cables that discussed particularly controversial topics, including torture, rendition, Guantánamo, and targeted killings by drones.  When the State Department refused, the ACLU sued and now 11 of the cables have been released (albeit heavily redacted).  Compare the two and you get an amazing glimpse of what the U.S. government chooses to censor and why.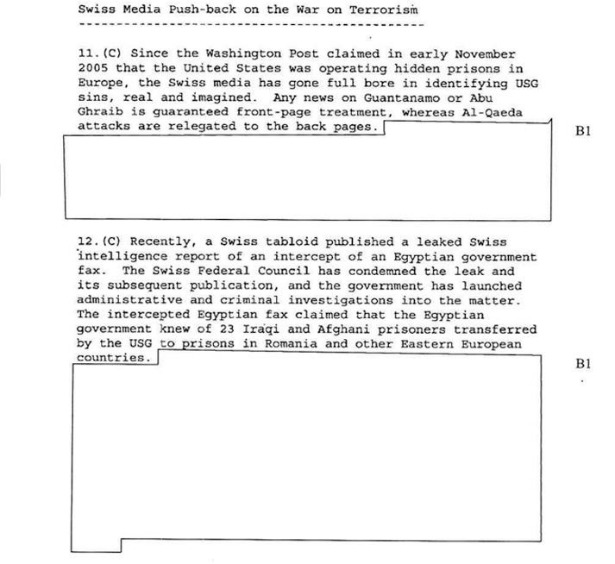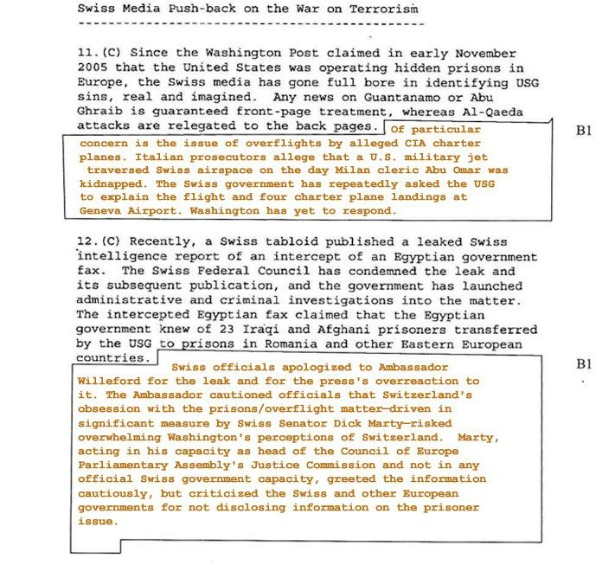 This week Brooke speaks with Ben Wizner of the ACLU's National Security Project about the redacted and unredacted versions.  But you know what they say about pictures and words and equivalency; the ACLU have created a webpage that shows the cables with redactions – but when you move your mouse over the blacked out sections, the text underneath is revealed.  It's great fun and we encourage you to check it out: http://www.aclu.org/wikileaksFOIA
Read More
Friday, October 28, 2011
Today at 15:00 GMT, Julian Assange will be answering questions live on The BBC's World Have Your Say. Unfortunately, due to region restrictions, US viewers are not able to watch the program live, but if you have a question for him, you can either post it on the World Have Your Say website in the comments section, or on the WHYS Facebook page. Once the episode is archived, we will post it to our blog. EDIT - It's up now! Check below to see both parts of the Julian Assange interview that aired this afternoon.
Read More
Friday, September 02, 2011
This week WikiLeaks released the largest number of US diplomatic cables to date, but the release has been overshadowed by an unredacted leak of its entire cache of cables. Bob talks to Atlantic Wire writer Adam Clark Estes about who's blaming who for the leak at WikiLeaks and what this could mean for WikiLeaks in the future.
Song: Lead Us To The End
Artist: The Quantic Soul Orchestra